Christmas is right around the corner and while I am super excited about it, I am also feeling a little panicky as I am no where close to being done with my shopping list. I used to moan and whine about the lack of time, these days I know for a fact that there is not enough hours in the day for me to get my shit done.
I find it ironic that I am working in a shopping centre and yet I get zero shopping done.
Today I will be sharing my look for Christmas dinner which is something that we as a family look forward to because my MIL makes a kick-arse turkey meal. It's a very small family get together but since my social life is pretty much zero these days, I savour every opportunity to look glamourous.
I hope you enjoy this look and do share your festive look in the comment section below!
FACE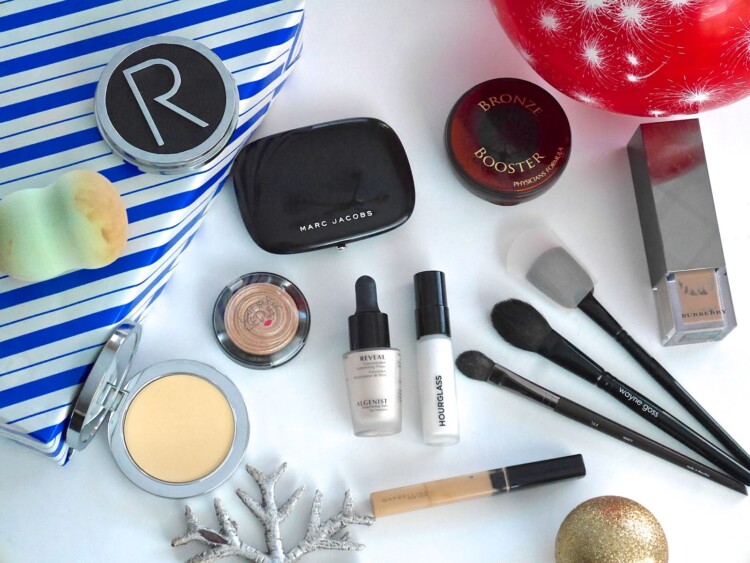 I've been loving a sponge to apply my base and I opted for my current favourite combination; Hourglass Mineral Veil Primer and Burberry Sheer Glow Foundation as I love how dewy they make my skin look. I chose Maybelline FitMe Concealer as it has higher coverage which is currently much needed to conceal my dark circles due to lack of sleep. Rodial Banana Powder* has been my go-to powder to set my concealer and the middle of my face and I apply it with Wayne Goss The Air-Brush.
As for the extra glow, I have been applying Algenist Luminizing Drop in shade Pearl using MUFE 144 Professional brush* and layering on top with Laura Geller Baked Swirl Illuminator in shade Gilded Honey using Wayne Goss Fan brush. And lastly, I apply Rodial Contour Powder* to give the illusion that I have cheekbones, warmed up the rest of my face with my favourite drugstore bronzer, Physicians Formula Bronze Booster and bring my face to life with Marc Jacobs Air Blush in shade Lines & Last Night. I apply all three products with Wayne Goss The Air-Brush while cleaning the brush on a piece of paper towel in between products. If there is something that you need to be aware of it is that Wayne Goss brushes are easy to clean. All you have to do is swirl them on a clean micro fibre cloth or a paper towel and just wash them once a month.
EYES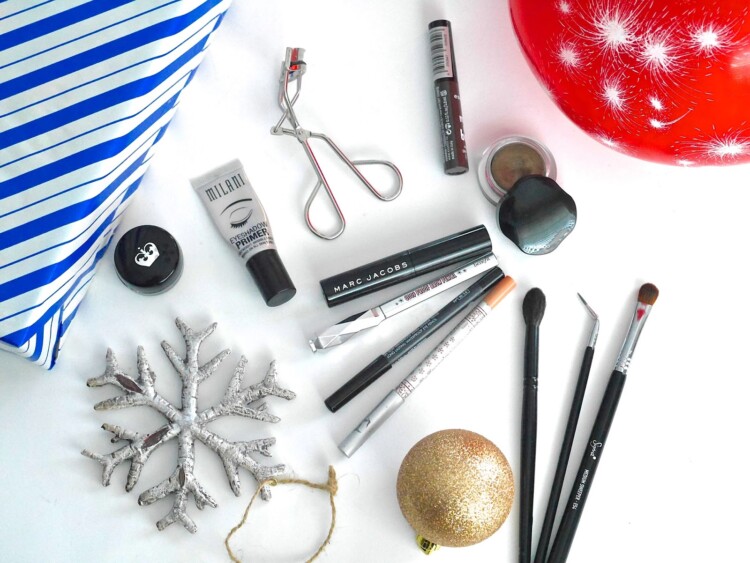 I look back on all the looks that I have done on the blog and it's always same old, same old neutral eyes so I thought, let's vamp it up this time. I am still trying to finish Milani Eye Primer so it's my go-to eye primer until today. I swear it has never ending amount and I just can't see the end of the tunnel with it!
I applied a light wash of Rodial Contour Powder* on my crease with Wayne Goss 03 brush, followed by Shiseido Cream Eyeshadow in shade GR707 with SIGMA E54* all over my mobile lids and lower lash line and finally deepened the crease with a heavier application of Rodial Contour Powder* in the crease and outer v with Wayne Goss 03 brush. To give the eye a little bit of 'something', I used my finger to dab a touch of Laura Geller Illuminator on the centre of my mobile lids and finished off the eye makeup with a winged liner using Rimmel Gel Liner in shade Black and SIGMA Precise Bent Liner brush*.
As for my lashes, I curled it with my old Shu Uemura eyelash curler, tight line with Make Up For Ever Aqua Xl eyeliner in shade M-14* and finished it off with two generous coats of Marc Jacobs Velvet Noirs mascara.
I am a creature of habit so as always, I finished my eyebrows last with Essence Make Me Brow and Benefit Goof Proof Brow pencil. Recently I have been using Essence Make Me Brow first and then fill in the sparse areas of my brows with a pencil and I find this way to be less time consuming. Let me know how you guys do your brows please, I would love to know.
LIPS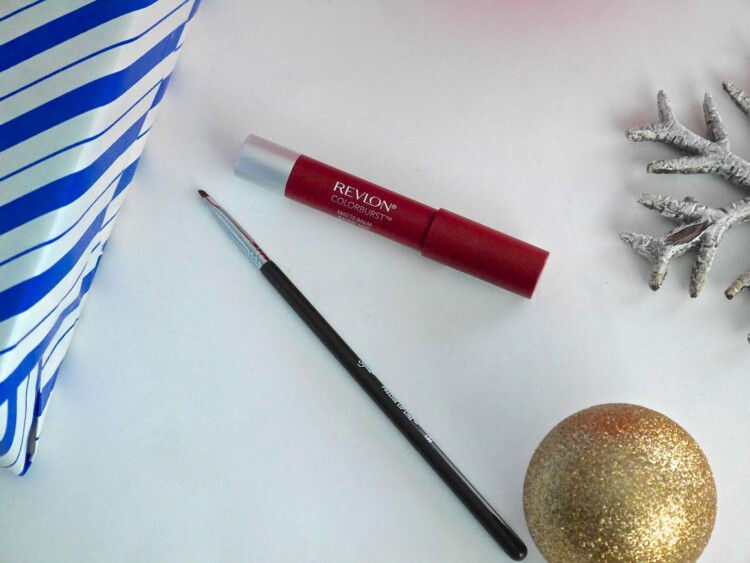 A Christmas look would not be complete without red lips and I recently rediscovered Revlon Matte Balm in shade Standout. The tip is no longer sharp so it's impossible to get a straight line while applying it straight from the bullet but this is where SIGMA Precise Lip Line brush* saved the day!
MAKEUP TOOLS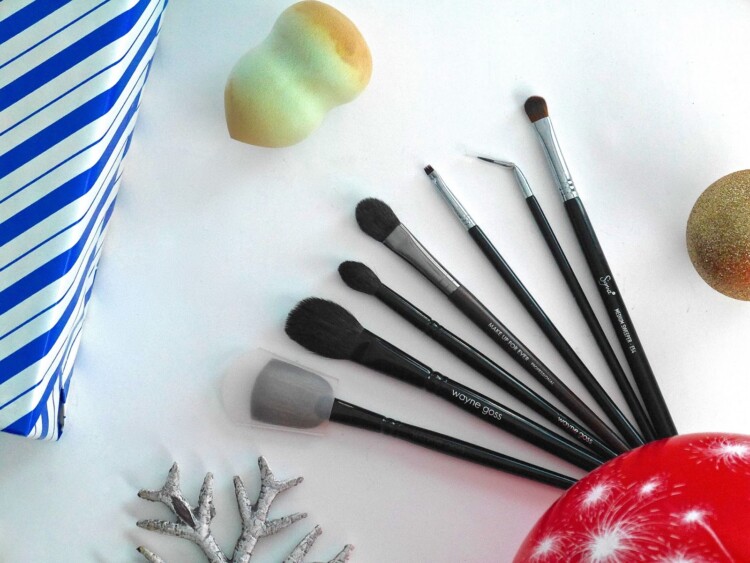 I noticed that I never show what makeup tools I usually use for my look so thought I would add them in for todays post. I might feature my tools in all my future looks as there have been a few of you who have showed interest in my makeup brush collection.
FINISHED LOOK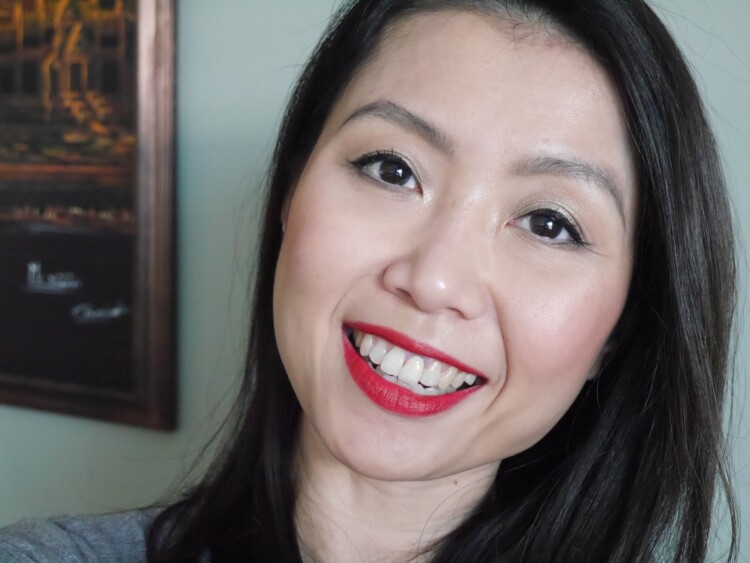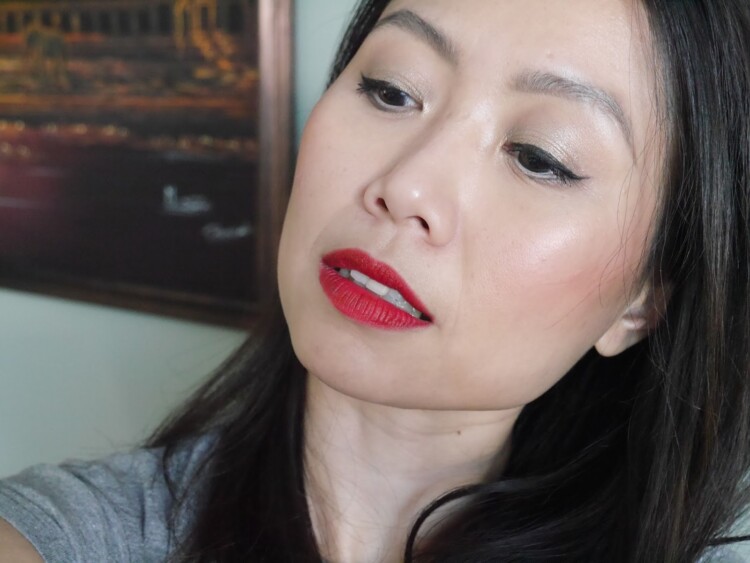 I'm at my wits end on taking pictures of myself! I swear in real life the eyeshadows are beautiful emerald green with gold in the middle but the shades don't show up on the camera and instead, they look like a bloody mess. 😓 I hope you guys enjoy my Christmas makeup look despite the lighting washing out most of the colour of my face (blogger's problem) and do share the link to your look if you posted one on your blog!
ps: Anyone interested in seeing 'My Best of 2016 Highlighters Collection' post? Do let me know in the comments below and I'll schedule it to go live on next Monday! xx *Products marked with * were received for free but my thoughts and opinions are 100% unbiased, honest and my own. There is no place for any sort of BS here.