Happy New Year to all you lovelies and how was your celebration? Did you do something special, go out to party or just stay in? We stayed in and ordered Domino's pizza, something that we did when we were ringing in 2015 and will be a tradition in The House of Platt. Hubby and I rented Maze Runner: The Scorch Trials which we freaking loved, have any of you watched it? We loved both movies and am looking forward to the third instalment! We managed to stay up till midnight to ring in 2016 but we were in bed and asleep by 12.05am, definitely feeling way too old to be staying up that late.
New Year celebration and us old folks staying way past our bedtime aside, today I will be sharing two products from Paula's Choice Resist Anti Aging range that I have tested for more than 6 weeks; Skin Firming Line Minimizer* and 1% Retinol Booster*. Both products were supposed to be reviewed together with Resist Anti-Aging Eye Cream* (reviewed here) however, one month seems to be too little time for both products to work their magic.
And oh boy, they both worked some serious magic on my skin.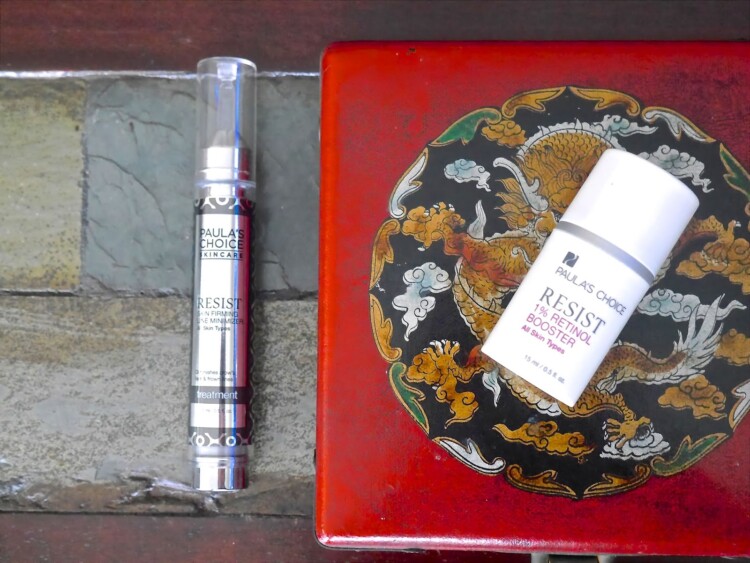 RESIST SKIN FIRMING LINE MINIMIZER ($50.00)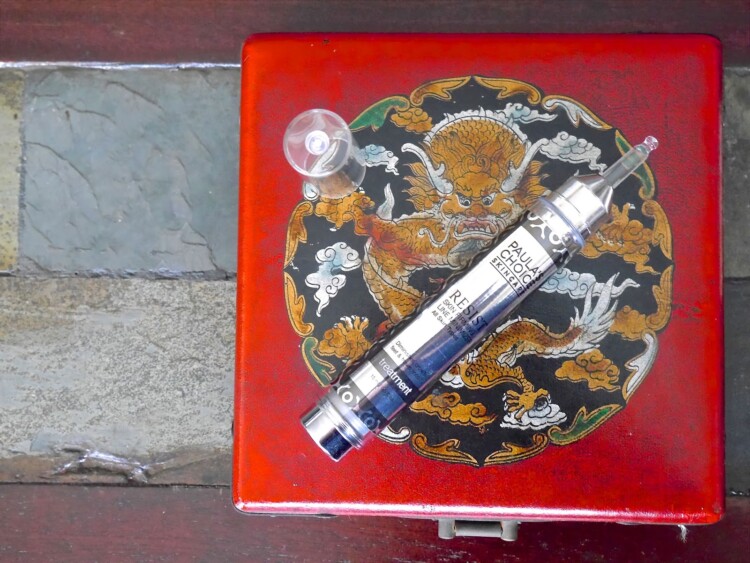 Key Ingredients: Bambusa vulgaris (bamboo) leaf/stem extract, niacinamide, copper lysinate/prolinate, Pisum sativum, panthenol, glucosamine HCL, sodium chondroitin sulfate, glycosaminoglycans, sodium hyaluronate, glycerin, methylglucoside phosphate
Product Ingredients: Water (Aqua), Glycerin (skin-repairing ingredient), Niacinamide (cell-communicating ingredient), Glycosaminoglycans, Sodium Hyaluronate, Sodium Chondroitin Sulfate (skin-repairing ingredients), Copper Lysinate/Prolinate (amino acid/mineral complex), Glucosamine HCL (skin-conditioning agent), Panthenol (skin-repairing ingredient), Bambusa Vulgaris (Bamboo) Leaf/Stem Extract, Pisum Sativum (Pea) Extract (antioxidant plant extracts), Methylglucoside Phosphate (skin-conditioning agent), Polysorbate 20 (emulsifier), Disodium EDTA (chelating agent), Ethylhexylglycerin (skin-conditioning agent), Phenoxyethanol (preservative).
​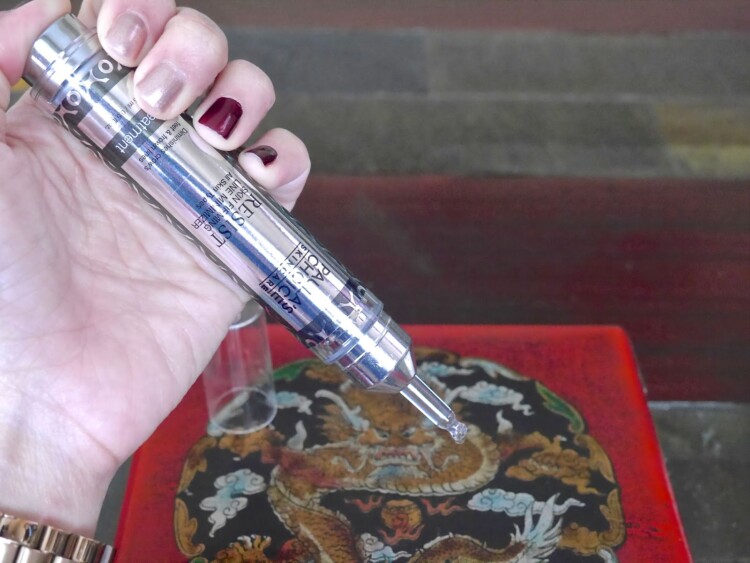 What makes this product unique?
Resist Skin Firming Line Minimizer contains a targeted, research-proven anti-wrinkle complex that works to rev up cellular metabolism, "telling" skin to begin producing collagen as it did when we were young. The result? Visibly firmer skin! Proven barrier repair and cell-communicating ingredients help repair damaged elastin so skin regains some of its youthful "bounce." This concentrated complex produces anti-wrinkle results similar to retinol, so it is an alternative for those sensitive to this ingredient—or it can be used in conjunction with a retinol product for enhanced results.
The state-of-the-art airless dropper allows for precision dispensing while keeping the ingredients protected from light and air exposure.
Who is this product for?
Anyone wanting to improve the appearance of visible signs of aging, especially around the mouth and eyes. Perfect for those sensitive to retinol or may be used with a retinol product or any other anti-aging treatment.
The packaging of this is nothing like I have ever seen before, it looks like an oversized syringe which unfortunately is pretty similar to the ones that we had to force feed little tyke when he was in the ER with allergies. That aside, I love how unique the packaging is. To dispense product, all I have to do is press the button at the end of the tube and the product drips from the 'syringe' side. As I said, it's pretty cool.
The texture is very light and runny just like water and I didn't detect any scent to it. It's suggested as the last step in my skincare regime so I apply it after my long list of skincare routine and only on my smile lines (which unfortunately are very deep), under my eyes and on my forehead. While I initially frowned that it only came in 15mL, believe it or not, I only need two little drops for all these areas!
After 6 weeks of using it every night, my under eye areas, smile lines and all the fine wrinkles on my forehead have lessened considerably. My forehead especially is so much smoother and I kid you not, my smile lines and the fine lines under my eyes are almost gone. Dare I say my skin actually looks younger? Because it truly does.
RESIST 1% RETINOL BOOSTER ($50.00)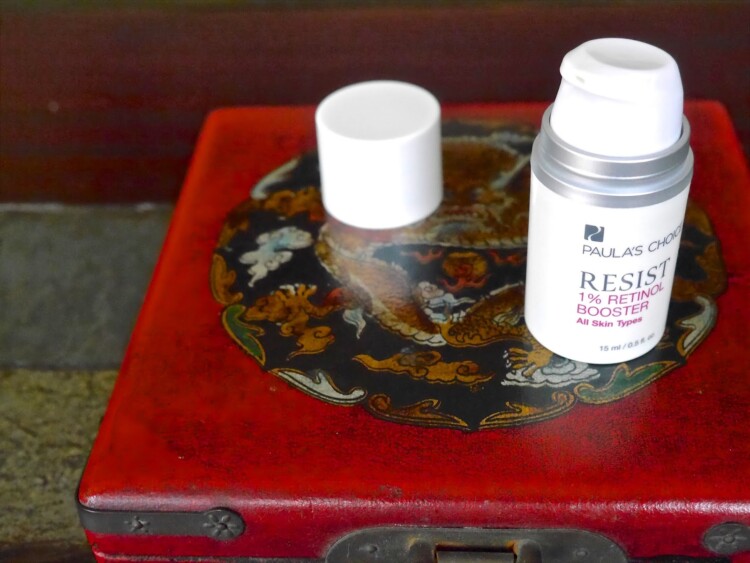 Key Ingredients: Avena sativa, palmitoyl tripeptide-1, ceramide NP, Epilobium angustifolium extract, hydrogenated lecithin, retinol, allantoin, Pyrus malus, Salix alba extract, dipotassium glycyrrhizate, glycerin, Arctium lappa, Carthamus tinctorius oil, Glycyrrhiza glabra
Product Ingredients:
Water (Aqua), Glycereth-7 Triacetate (skin-conditioning agent), Glycerin (skin-repairing ingredient), Carthamus Tinctorius (Safflower) Oleosomes (anti-inflammatory plant-based fatty acids), Isopentyldiol (penetration enhancer/solvent), Polyglyceryl-10 Behenate/Eicosadioate (emulsifier), Butylene Glycol (slip agent), Pyrus Malus (Apple) Fruit Extract (antioxidant plant extract), Polysorbate 20 (emulsifier), Retinol (cell-communicating ingredient), Glycyrrhiza Glabra (Licorice) Root Extract (plant-derived anti-irritant), Ceramide 3 (skin-repairing ingredient), Palmitoyl Tripeptide-1 (cell-communicating ingredient), Avena Sativa (Oat) Kernel Extract, Epilobium Angustifolium Flower/Leaf/Stem Extract, Arctium Lappa Root Extract, Salix Alba (Willow) Bark Extract, Allantoin, Dipotassium Glycyrrhizate (anti-irritants), Caprylyl Glycol (emollient), Polyglyceryl-10 Laurate (emulsifier), Dipentaerythrityl Tri-Polyhydroxystearate (film-forming agent/emollient), Ethylhexyl Methoxycrylene (skin-conditioning agent), Hydrogenated Lecithin (cell-communicating ingredient), Bis-Glyceryl Ascorbate (antioxidant), Disodium EDTA (stabilizer), Sorbic Acid (preservative), Xanthan Gum (thickener), Phenoxyethanol (preservative).
What makes this product unique? Resist 1% Retinol Booster is a concentrate that makes it easy to customize the anti-aging, wrinkle-smoothing and skin-firming strength of your favorite moisturizer or serum, whenever you need it. The Resist 1% Retinol Booster is specially formulated, without oils, heavy emollients or silicones, so it blends seamlessly with any serum or moisturizer.
Powerhouse ingredient retinol is joined by several proven anti-aging ingredients to stimulate collagen, help repair past damage and provide smoother, dramatically younger-looking skin.
Who is this product for? Resist 1% Retinol Booster is especially for those who want the benefits of retinol without having to change their skincare routine. Ideal for anyone concerned with improving the appearance of skin showing signs of sun damage, including deeper wrinkles, brown spots, uneven skin tone and loss of firmness. Also excellent for those struggling with breakouts (aka "adult acne").
I have long wanted to try a product with retinol in it but had no idea where to start so when I saw this was included in the package, I did a little happy dance. The product is yellow in colour and has a light texture but not as light as Resist Skin Firming Line Minimizer*. It does have a very faint, sourish scent but because it's suggested to add two to three drops of product into your favourite serum/moisturizer, you will not detect it.
How to tailor the desired strength (follow use with a broad-spectrum sunscreen rated SPF25 or greater):
One Drop: A mild anytime anti-aging boost (AM and/or PM). Two Drops: The perfect moderate-strength PM treatment. Three Drops: Prescription-strength power for extra stubborn concerns.
I only use this in the evenings and have discovered that three drops are way too strong for my skin. I could use three drops but it has to be once in every three days so I've stuck to two drops every alternate days and my skin has never been brighter and smoother! Why oh why did it take me this long to add retinol into my skincare regime? I don't think my skin has seen a better day!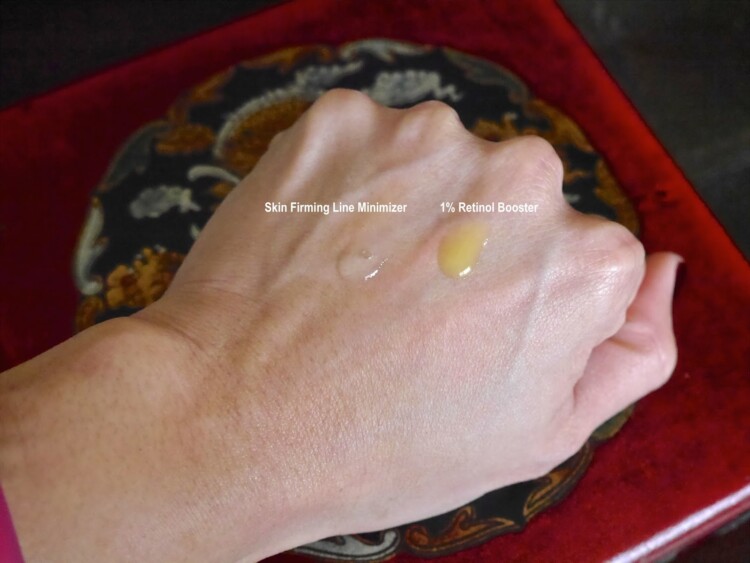 While I was on the fence about Resist Anti-Aging Eye Cream*, I am more than impressed with Resist Anti-Aging Skin Firming Line Minimizer* and 1% Retinol Booster*. The downside on both products is the price, it's pretty steep but on the good side, they did wonders on my skin and because I only need very little each time, 15mL will last me a very long time.
Have you tried any Paula's Choice products before? Are you using any retinol products in your skincare routine?
*I received this product for free but my thoughts and opinions are 100% unbiased, honest and my own. There is no place for any sort of BS here.