It's no secret that I am crazy obsessed with lipsticks but the one dark secret that not many people know is I am equally as obsessed with nail polish. I gave away 60 plus bottles of nail polish when I left Malaysia and currently I am slowly rebuilding my collection again.
Last I counted, I have roughly 30…or maybe it was 40 bottles. It's not much but as I said, I'm slowly rebuilding my collection while trying to avoid triggering any suspicion from hubby dearest.
Trust Fund Beauty has long been under my radar after my first introduction to it through ipsy. The nail polish range is well known to be amazing in quality and they are also non toxic, 7 Free, cruelty-free and vegan.
I was kindly sent three shades; Salad Bar*, Major Eye Roll* and Adult Content* and have been playing with them for the last few weeks.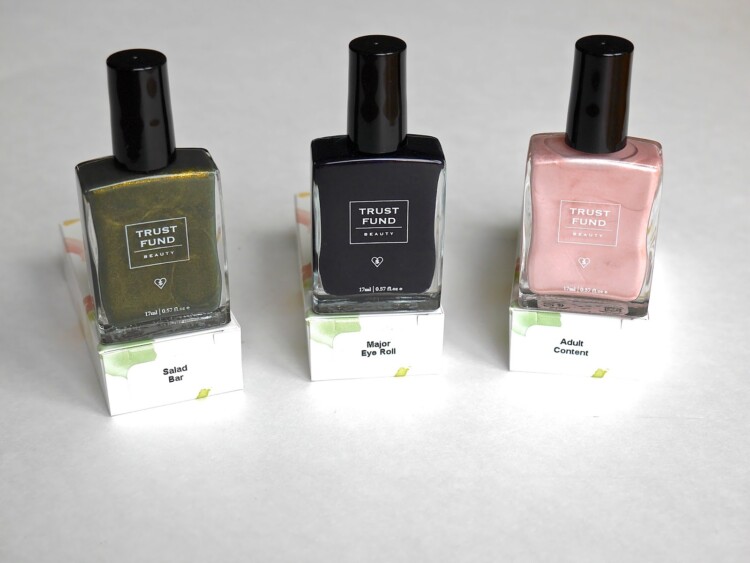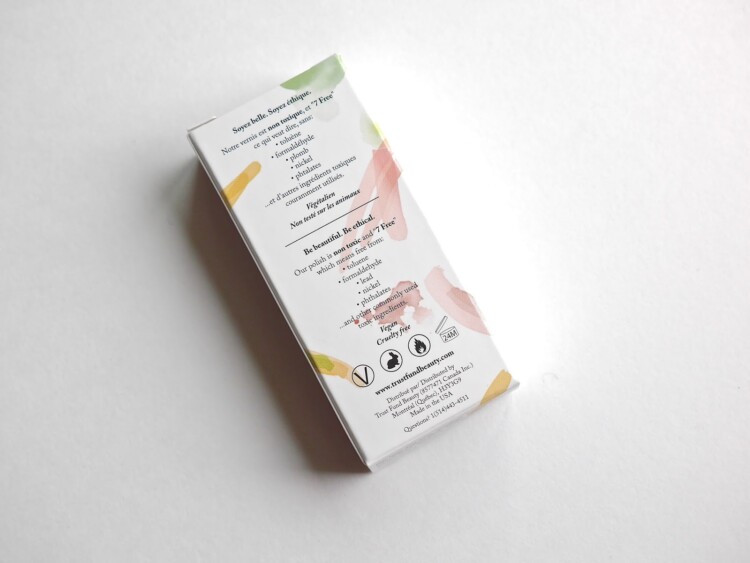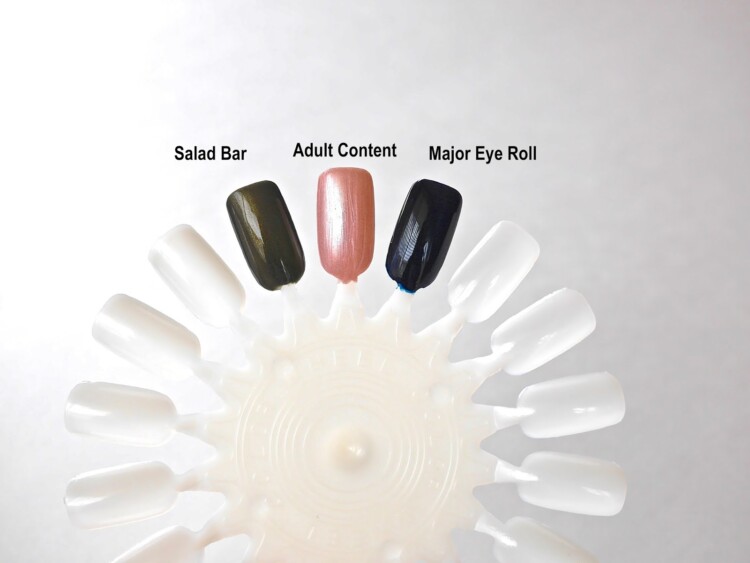 First of all, how brilliant are the shade names? It's cheeky and creative and I just love it. Now to the most important part, how do they perform? I love the texture as it's the perfect medium, not too thick nor is it watery thin. The brush is great and gives a smooth application, I easily paint my nails with just a couple of strokes and it doesn't create any bubbles. Pigmentation and longevity differs from shade to shade with Adult Content being the naughtiest meaning, the worst performing shade. Note: I apply Sally Hansen base coat and Seche Vite Dry Fast Top coat for all my manicures and pedicures. Salad Bar* (check here) ~ A stunning, glossy olive green with hints of gold shade that I could easily get away with only one coat but I apply my usual two coats for maximum opacity. It lasted 3-4 days before I noticed the first chip. I personally think this shade would suit all skin tones. Adult Content* (check here) ~ A pale shimmery pink and I needed up to three coats for full opacity. It also applies streaky and regardless how careful or how well I applied it, you can still see the streaks on the nails. It chipped the very next day on my right hand and the day after on my left hand. The shade also didn't look good against my tan skin. I think it's much better suited for fair skin lovelies. Major Eye Roll* (check here) ~ A very dark inky blue which looks inky blue with one coat and almost blue black with two coats. This is my favourite shade of the bunch and it lasted 3-4 days before I saw the first chip. This shade would definitely suit all skin tones and I can see myself wearing this a lot in the colder months. Another thing to note is Trust Fund Beauty nail polish comes in 17mL instead of the usual 15mL. With the exception to Adult Content*, I am truly loving Trust Fund Beauty nail polish and I already have my eyes on a couple more that I would love to add into my collection. Seriously…how could anyone resist the naughty, cheeky names (check here)? I also have Trust Fund Beauty  lipstick review coming up so look out for that in the upcoming weeks. Have you tried anything from Trust Fund Beauty? *I received this product for free but my thoughts and opinions are 100% unbiased, honest and my own. There is no place for any sort of BS here.