With Christmas around the corner, I'm already planning my Christmas looks. As pathetically vain as it sounds, us beauty bloggers take our beauty routine very seriously. *sarcasm*  
While I'm usually a lost cause in the makeup and fashion department, I am proud to say I am pretty good with painting my nails. However, this little task can be almost impossible when you have an 18 month old clawing at your legs asking to be carried whenever he sees you sitting down with a bunch of pretty little things.
Recently I had the pleasure of being in touch with Jayme whom offered me the opportunity to try Jamberry Nails wraps*. If you're not familiar with Jamberry Nails, they are do-it-yourself nail wraps made out of durable materials that can last up to two weeks on fingernails and up to four weeks on your toes.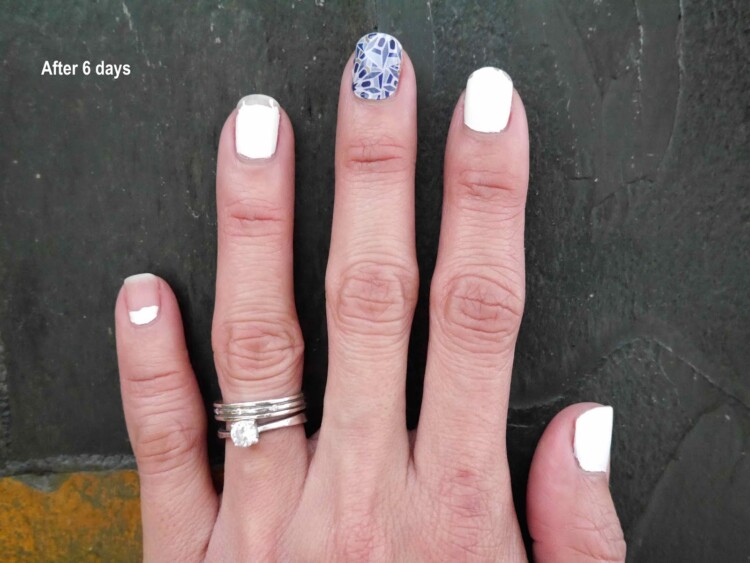 Jaymee kindly sent me half a set and a few single samples to try on and let's talk about the good first. The designs are beautiful and very unique. There are abstracts like the one that I am wearing in the pictures, some are flowery and the others are simpler in designs. I used only one to test because I think it's a little over the top to have it on all fingers and I wanted to test it's durability against nail polish. As you can see in the picture, the nail wrap lasted really well while my nail polish (NYC Long Lasting Nail Polish) was…well, pretty much gone. I am very rough with my hands; washing, cooking, running after a little one and on this particular day, I was shelling and deveining 50 tiger prawns so my nail polish stood zero chance. The nail wrap durability is very impressive, there is no denying this fact….but. There's a very big but, actually a few buts, yes, it's plural. Application wise may seem easy (read here) but it's actually anything but easy. It does take time, lots of practise and trials and errors. When I first applied the nail wraps, they all came off my fingers in less than a day. I washed my hair and poof! I saw them floating down the drain. So I buffed my nails and then tried it again, this time making sure to apply pressure for a longer time and it worked. However despite my best efforts, the edge of the nail wraps popped up a little and wouldn't smooth over. I also felt very self conscious about my nail because regardless how much I buffed the edge, it still felt a little rough and it caught on my clothes and cotton pads. And when that happens, I get extremely worried that the nail wrap will fall off and I will look like a dork with a weird, incomplete manicure. Are Jamberry Nails Wraps* worth it? It depends on what you're looking for, if you love nail art but don't have a clue how to do it and hate spending lots of money for salon manicures then these nail wraps are perfect for you. I personally love the gorgeous designs and the huge variety that Jamberry has to offer (check here) but I do frown on the application however with that being said, I do think it gets easier with practise. Christmas is around the corner and if you want to try something a little fancy for your nails then check out Jayme's site (click here) and I'll guarantee you'll fall in love with the designs.
*I received this product for free but my thoughts and opinions are 100% unbiased, honest and my own. There is no place for any sort of BS here.
Over the weekend: Little Tyke is sick, again. Sigh… He was well for a week or so and then he had his flu shot so here we are again. It doesn't help that he's also teething so it has been pretty brutal in the House of Platt. I don't mind the fussiness and the crying but it's the horrible feeling of helplessness that gets to me every time. We were supposed to have friends over for dinner but that was cancelled because we don't want their son to catch whatever Little Tyke is having.  Our weekend was filled with a fussy, crying toddler…how was yours?