One of the many perks of working in the beauty department is how quickly I notice the shift in trends. A few brands such as Revlon, Almay, Physician Formula and CoverGirl are going through some massive changes as they are trying to appeal to a bigger audience. Many products are being discontinued and the good news is, the new ranges are better in many ways. The foundations have bigger colour ranges, the eyeshadows are more buttery and pigmented and the list goes on and on. I have been a beauty brand snob for a couple of years now so imagine how pleasantly surprised I was when I tested a few budget-friendly products that could easily give high-end brands a run for their money. Today I'm sharing a few budget-friendly highlighters that I am currently loving and don't forget to leave your recommendations too!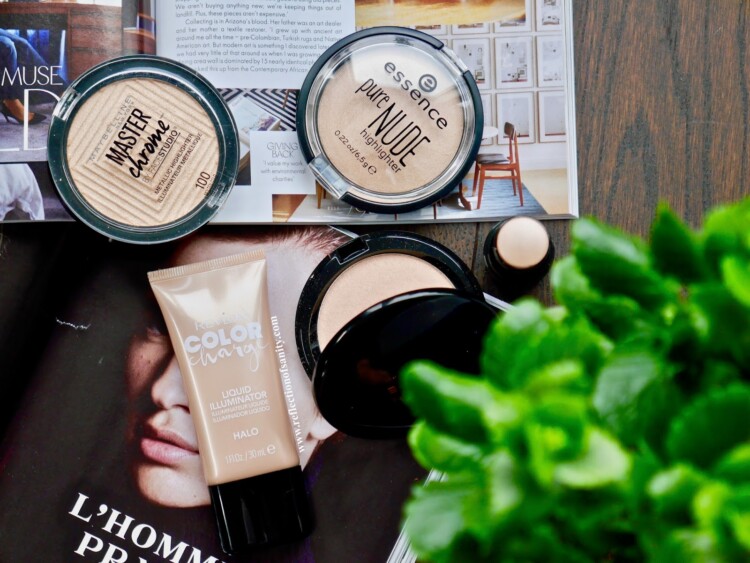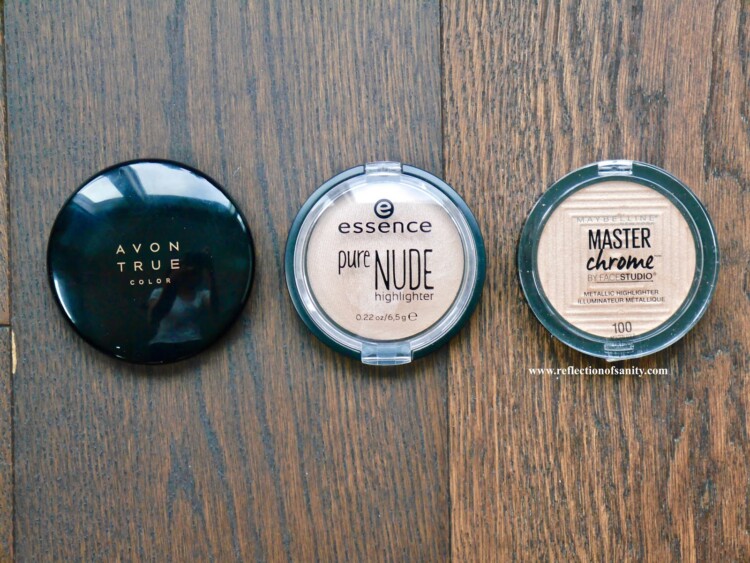 AVON TRUE COLOUR HIGHLIGHTING POWDER IN SHADE MOONLIT* ($18.00CAD) currently on sale for $14.99CAD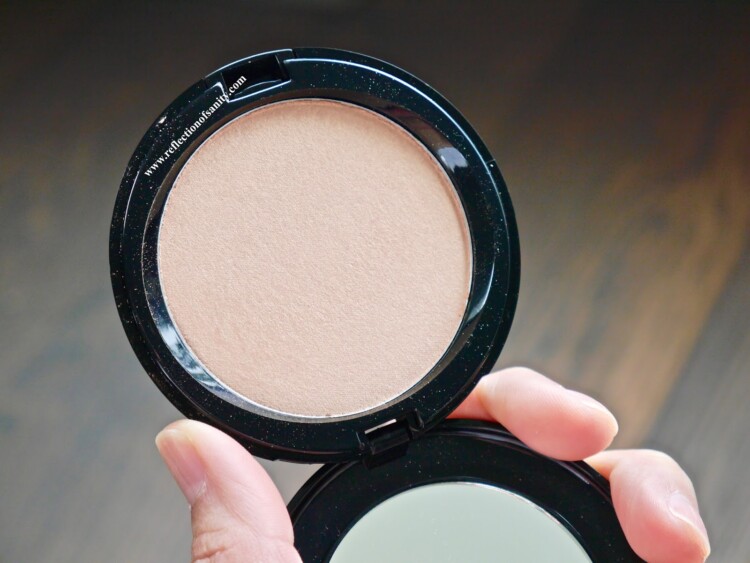 I'm not going to lie, I was very sceptical when Avon released highlighters. The snob in me was convinced that they were going to be duds but slap me silly because the highlighters are brilliant! Moonlit* feels dry and stiff when touched in pan but I have no problem picking up the product with a fan brush. It's a beautiful rose gold shade and thankfully the formula doesn't highlight any of my skin textures. It's also very long lasting and I only noticed some fading after 8 hours.
ESSENCE PURE NUDE HIGHLIGHTER IN SHADE BE MY HIGHLIGHT ($5.99CAD)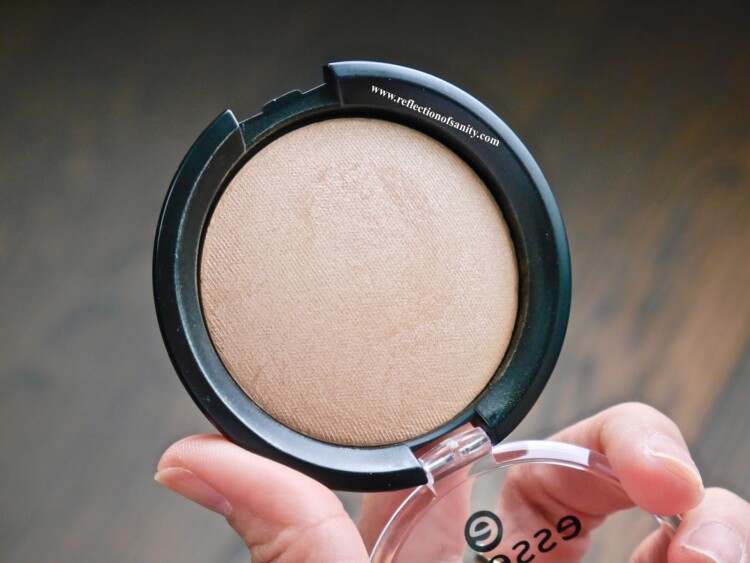 This was the highlighter that changed my mind about drugstore highlighters. My best friend gifted me this because he knew my fancy-arse was too foo-foo to buy a budget-friendly highlighter. Honestly it took me almost two weeks after receiving it to finally give it a try and wow, I used it every day for almost a month. The texture is soft, smooth but not powdery and it's the most stunning, natural looking highlighter that I have ever tried. It doesn't smooth over my skin textures but instead, it seems to camouflage them and makes my skin looks dewy and healthy. The only downside is I don't find it to be as long lasting as I will start to notice fading after 5-6 hours.
MAYBELLINE MASTER CHROME METALLIC HIGHLIGHTER IN SHADE MOLTEN GOLD ($10.96CAD)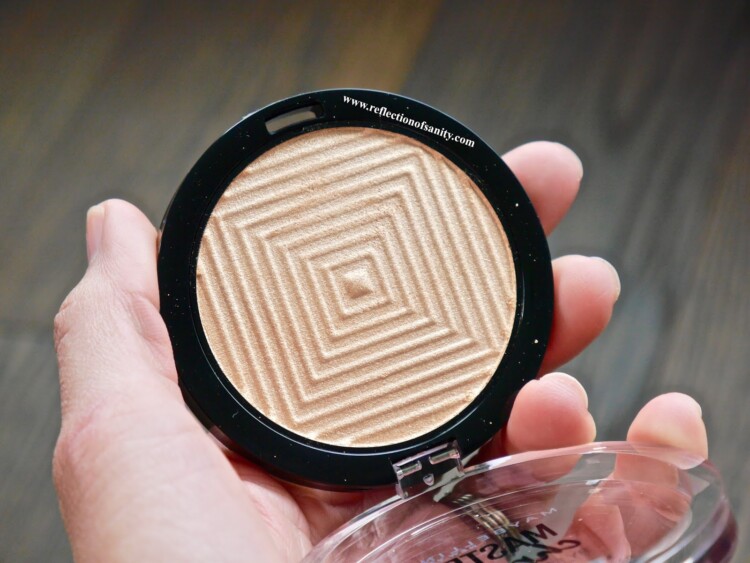 I didn't know what to make of this highlighter when I first saw it in the store. I swatched the tester and it was so soft and powdery that I had chunks of the powder stuck on my finger. It was a no for me and I was determined that I wouldn't waste my money on it. A month or so later I was so lucky to win a bunch of Maybelline goodies through Kathrine's giveaway and this highlighter was a part of it. To my surprise the highlighter that I won is very different from the tester that I tried at work. Molten Gold is a stunning champagne gold highlighter that I can easily wear subtly or layer to increase the intensity. I do have to be careful with it as it's very easy to overdo and it will highlight my fine lines if I'm not careful. The texture is soft, silky and reminds me of Becca highlighters albeit the powder is not as finely milled. It's also very long lasting I noticed fading only after 9 hours.
AVON TRUE COLOUR ILLUMINATING STICK IN SHADE CHAMPAGNE* ($14.00CAD) currently on sale for $12.99CAD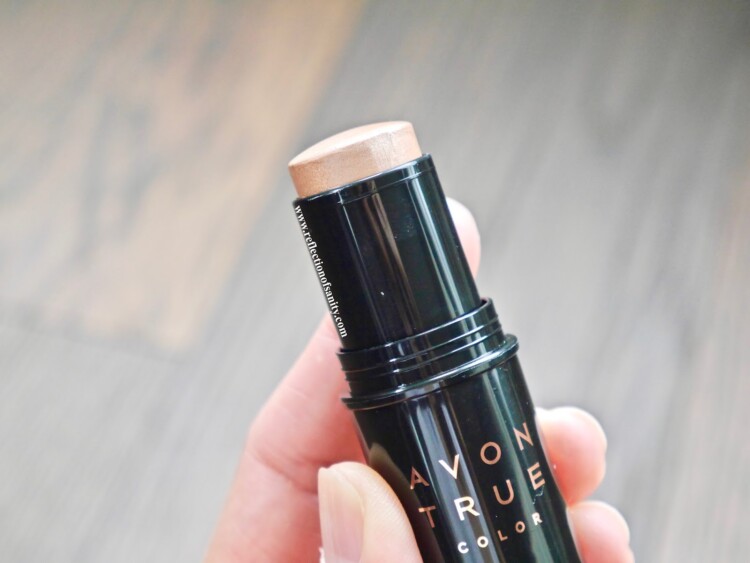 This Avon stick highlighter instantly caught my eyes and gosh, it's a beauty. It's a beautiful champagne shade that would suit all skin tones. The stick is not as smooth and creamy as high end highlighters but it melts into the skin upon swiping. It blends beautifully with both fingers and brush and last 6-7 hours on me. I have been wearing this even on my no foundation days as it gives the most beautiful sheen to my skin.
REVLON COLOUR CHARGE LIQUID ILLUMINATOR IN SHADE HALO*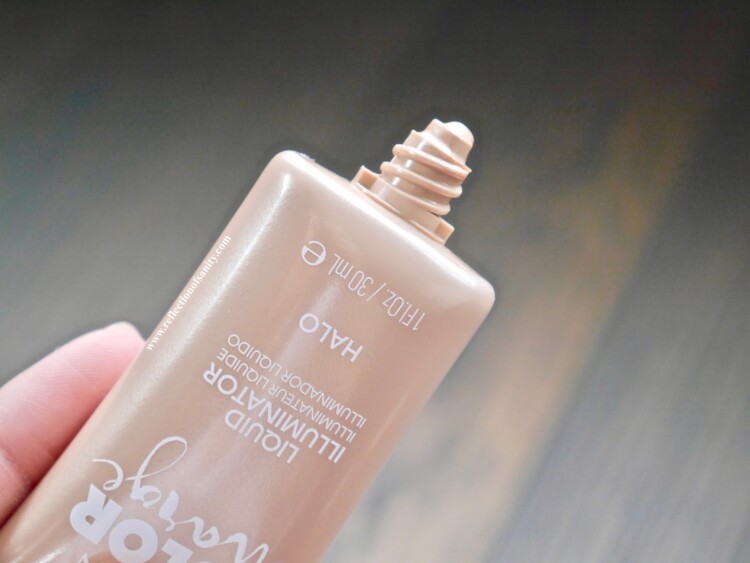 If you guys follow me on Instagram then you know that my relationship with this highlighter didn't start on a good note. I applied it with my fingers and it blended into nothing and I was ready to hate it. An then I used a flat concealer and everything changed. Halo* is a beautiful champagne shade (yes, one can never have too many champagne highlighters or at least that's what I tell myself) and will look amazing on all skin tones. Take note that it dries down very quickly so it's best to work one area at a time. Once it dries down, it doesn't budge all day. It blends beautifully into the skin leaving the most beautiful glow. I have yet to add it into my foundation but I have no doubt it will look beautiful.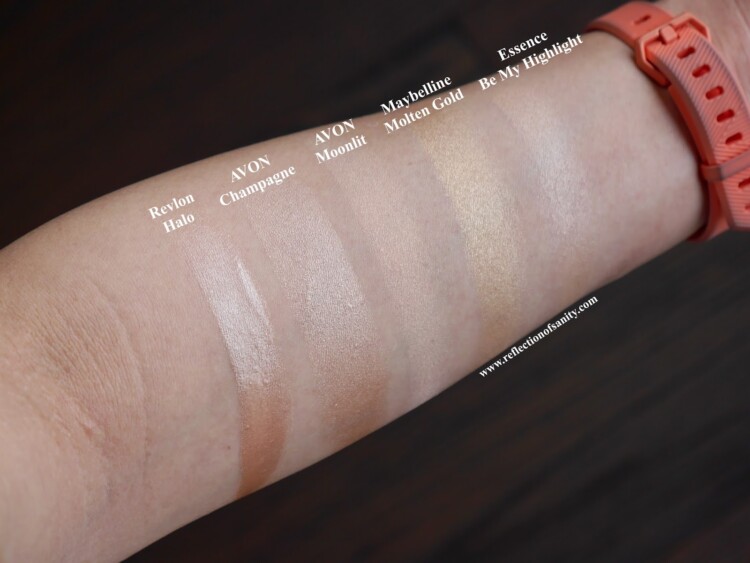 I have been really impressed with a few budget-friendly makeups that I have tested recently and it's nice to know that sometimes we don't have to spend a lot of money to get quality.
Have you tried any of these highlighters?
*Products marked with * were received for free but my thoughts and opinions are 100% unbiased, honest and my own. There is no place for any sort of BS here.