NYX will always have a special place in my heart as it's one of the first beauty brands that I repeatedly asked Mr. Platt to purchase for me whenever he was back in Canada on a business trip. It was in between the end of 2012 and early 2013 when NYX had yet to set foot in Malaysia and the Soft Matte Lip Creams were my first introduction to NYX and it didn't stop there.
Believe it or not, NYX is actually sold in Sephora Malaysia, oh yea, they are all fancy pansy back there while here in Canada as in most countries, they are sold in the drugstore. Regardless where the availability is, NYX is currently one of my top 3 favourite drugstore brands.
I would tell you and myself that I am being good with minimizing my makeup spending but that statement would cause Mr. Platt to roll his eyes so far back into his head that they might pop out from the back of his skull. So no, I haven't been good on the contrary, I've been a touch naughty and this tiny haul is just a small part of what have recently joined my stash.
Some of these were purchased a couple of months ago, some a few weeks back so I have ample time to test everything. If you guys enjoy brand spotlight posts and would like me to do more or if there is any drugstore brand (yes, drugstore or my husband will have the divorce lawyer on speed dial) that you would like me to review then please leave your suggestion in the comment section below.
NYX, the good, the bad and the ugly.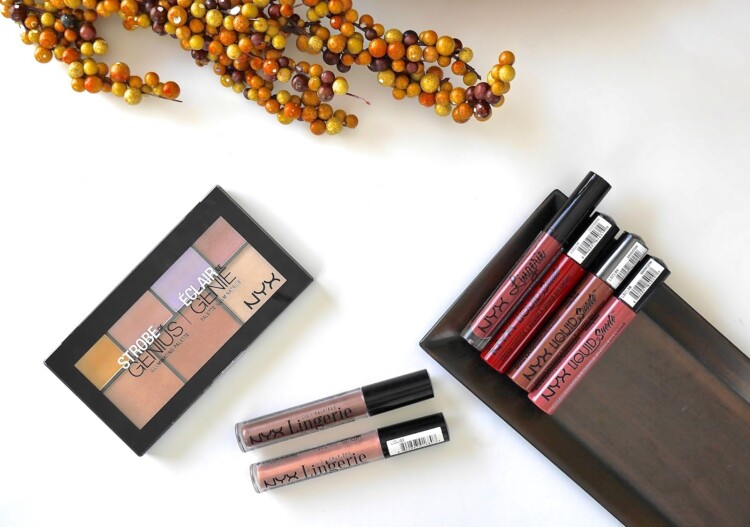 NYX STROBE OF GENIUS ILLUMINATING PALETTE $CAD27.00 (check here)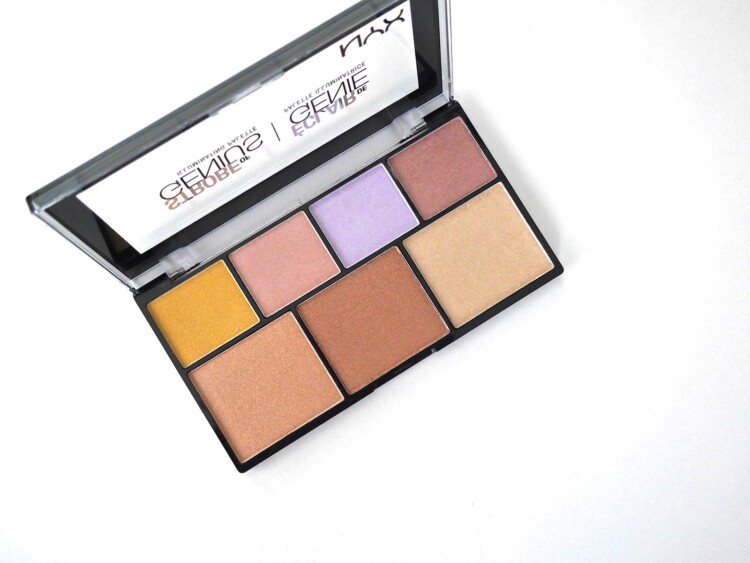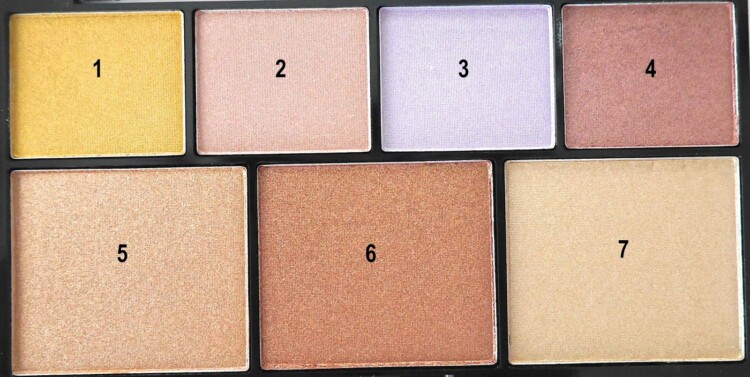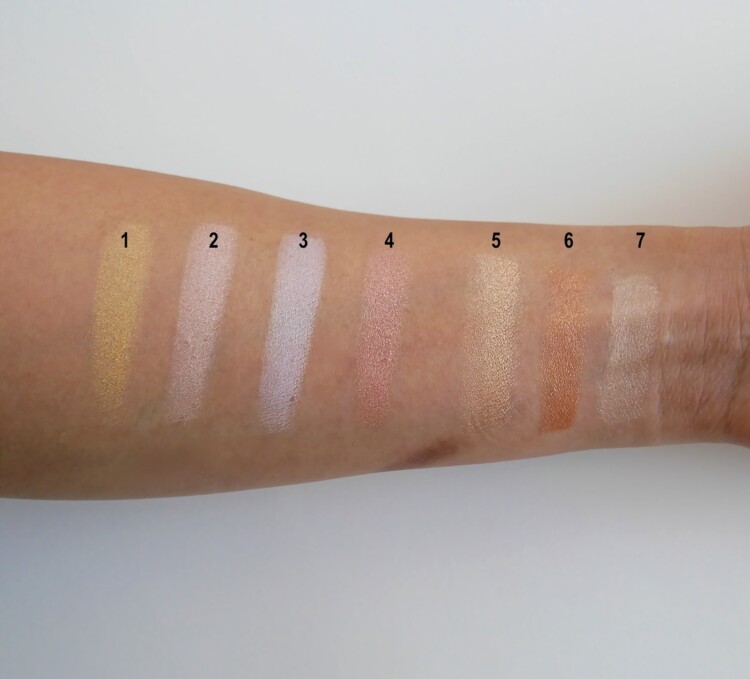 See that scar on my hand? I burnt myself with InStyler Max, ugh!
If there is something that you need to know about me it would be I am obsessed with highlighters. I use highlighter everyday to fake the glow on my dry skin and I find it to give some life to my otherwise sallow and dull face.
So when I saw this NYX Strobe of Genius Illuminating Palette, I knew it had to be mine. It was sold out online and I was quick to hit the stores to pick it up. It has 7 powder highlighters ranging in a wide variety of shades; gold, lilac or some call it pale lavender, rose gold, champagne, bronze and more off white-ish shades. It's like highlighter heaven in a palette and is a dream come true for any highlighter addict like me.
So why don't I love this palette?!!
I find it to be slightly powdery and the longevity isn't as long as I wanted. Many seem to state that they have problems with the gold shade being powdery and the pigmentation is lacking but I find the same problem applies to the whole palette. I also noticed that my highlight will start fading after 4-5 hours and I need to reapply. I can't go hog wild with application as the chalkiness highlights the fine lines on the high point of my cheeks.
I don't hate it but neither do I love it and I have been using this palette as eyeshadow which performs much better as that. I think if you are younger and don't struggle with wrinkles and fine lines (you tit!) then you will absolutely adore this palette. At my ripe old age of 37, this palette shines like a spotlight on all the little and not so bloody little lines on my face that I am desperate to conceal. I'm sticking to my Hard Candy Baked Bronzer and Physician Formula Shimmer Strips.
The struggle is real y'all! 
NYX LID LINGERIE EYE TINT $CAD9.00 (check here)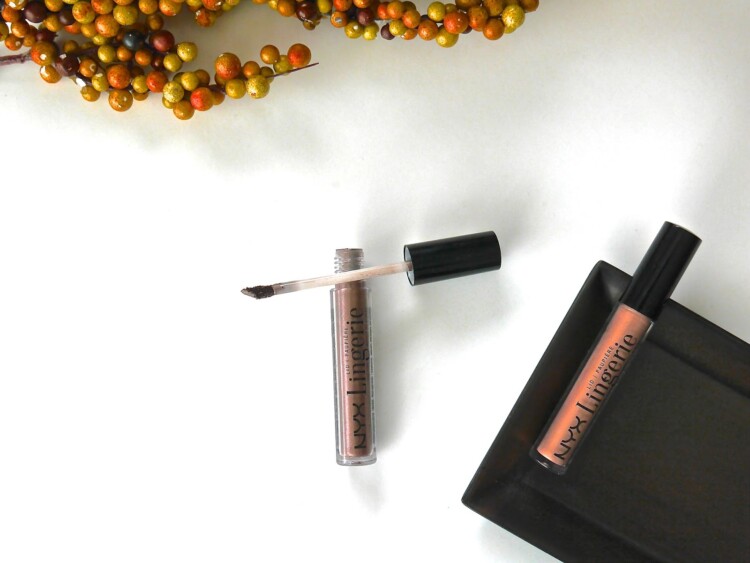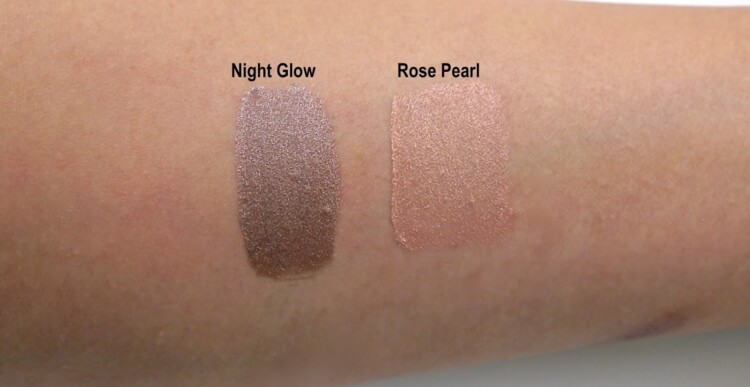 These are absolute wank. Don't waste your money on these, like seriously why do they even bother? Both looked promising, the shades are beautiful, both swatched stunningly but as soon as I blend it out on my lids, they are so sheer to the point my camera couldn't pick up the shades. I could pile more on but they would become patchy. Not only that, I must use eye primer under or these wouldn't last the hour, I swear they fade as I blink. They last 4-5 hours with primer before I start noticing some fading and I have dry lids for heaven's sake. Oily lids would need a primer or two, a couple of prayers and a miracle or three.
Maybe it's the two shades that I picked up are horrid and the others are lovely, who knows but I'm not wasting my money to find out. Oh the best part? I mistakenly ordered two Night Glow so now I have three of these buggers to use. FML….
NYX LIQUID SUEDE CREAM LIPSTICKS $CAD10.00 (check here) & NYX LIP LINGERIE $CAD9.00 (check here)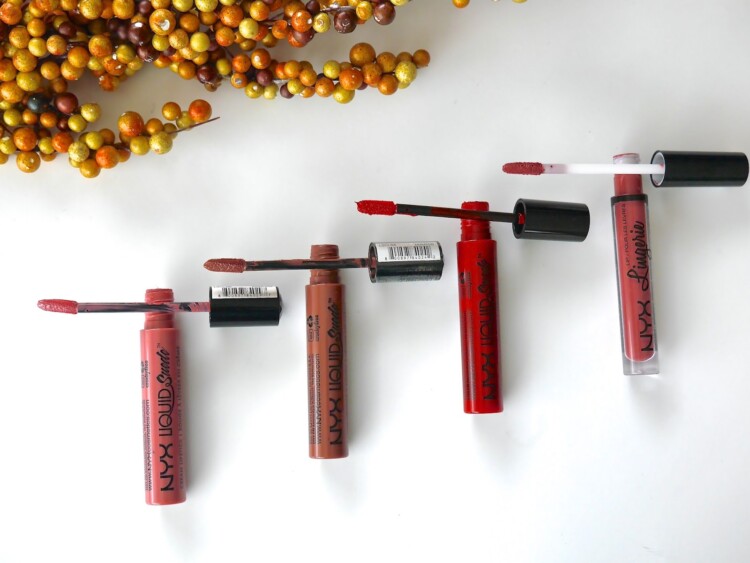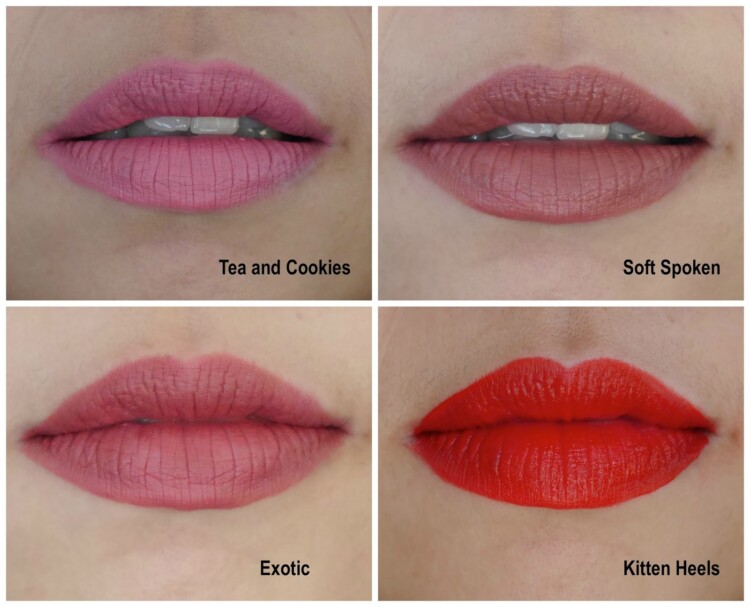 I swear NYX has the best liquid lipstick formula in the drugstore and from what I've read, it's even better from some high end options. I love these but I do prefer Liquid Suede to Lip Lingerie which I feel to be a tad more drying on the lips. It wasn't uncomfortable but Liquid Suede feels light and comfortable throughout the day whereas my lips felt tight at the 5-6 hour mark with Lip Lingerie. Another difference between the two is Liquid Suede texture is thicker and feels whipped. It's also more pigmented and all I need is one swipe for full opacity whereas Lip Lingerie is thinner in texture and I need 3-4 swipes for full opacity. The packaging is ace! I love the flat long applicator because it allows me precise application. These don't have any sweet, vanilla scent like most liquid lipsticks do. They actually smell a touch chemically but not in an offending or gross way, I assure you that your nostrils are safe.
Both are equally long lasting and I easily get 7-8 hours wear without the need to touch up despite eating and drinking. One thing to note, these don't fully set which means they are not completely transfer proof so skip these if you're going out for a date and some snogging is involved. Some men don't mind it, others like Mr. Platt will try to bleach out the lipstick mark there and then…
I must say I am a little disappointed with my latest NYX purchases, I love all four liquid lipsticks but the others were duds. Well, to be fair I will still continue to use them but I had so much more expectations from the brand. Oh well, time to move on to the next drugstore brand, suggestions? Have you tried any of these products? What are your thoughts on them?